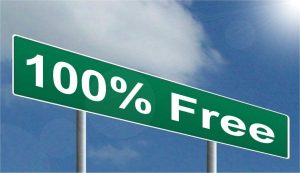 There are several sources for free images on the internet one of the most popular is using the filter provided by the search engines of searching for images "labelled for reuse".
Basically the search engine then returns all the images it can find covering the search term on sites which have images labelled as being available for use under a Creative Commons license.
Creative Commons licenses are a way for publishers to find free images and at the same time the photographer gets a credit in the form of an attribution link from the site using the image.
There are many different types of Creative Commons licenses, some photograpers license their work for non-commercial use whilst others allow commercial use but all the Creative Commons licenses require an attribution link except for one.
It is very important when using a free image under a Creative Commons license that publishers check which license it is licensed under and follow the terms of the license.
It is vital that publishers who are not familiar with Creative Commons licenses read the license for themselves and follw the conditions as failure to do so can invalidate the license leaving the publisher open to copyright infringement proceedings.